Mark Your Kite Gear Clearly With a Flag!!
If you can't make your own flag get yours here!
Our kite fishing flags are red sewn to the cord and green trailing.
The flag is sewn on to the cord 3 metres above the bottle loop.
The cord has a pre-tied loop at each end for tying into your kite rig and a pre-tied bottle loop is also provided.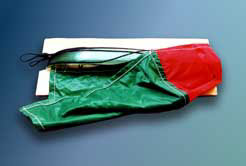 View both in our secure shopping cart
Big Rig Flag
Suitable for all kite longline rigs and big dropper rigs.
Small Kite Rig Flag
While the incident above involved a longline rig we also believe that, with the increasing popularity of kitefishing, kite dropper rig fishers who don't have flags on their lines should also fit one.
Big Rigs
All of Paul's Fishing Kites longline rigs already have flags on them but if you have made up your own rig we suggest you fit a flag of the same colours as ours.
The Paul's Fishing Kites conventional longline flags are red sewn to the cord and green trailing.
Our conventional longline flag is also perfect for the bigger 65kg dropper rigs.
If you wish to tie the flag in yourself you can order online, send us a cheque or call us for mail order.
If you want a flag professionally tied into your Paul's Fishing Kites 65 kg dropper rig call in to the shop and Rob will be pleased to do it for you.
Check out our fishing knot pages if you are tying a flag into your rig. We use the new uni knot on our rigs.
Small Rigs
For those with smaller rigs we have also recently made up a new flag of the same size sewn onto lighter cord.
The new light-weight flag is suitable for those using smaller rigs up to 35kg breaking strain like the flexiwing or pocket sled dropper rigs.
With the small rig flag simply unclip your bottle cord and clip the new flag between the dropline and leader line in it's place, no tying is required.