ShoreThing Report from Tokerau Beach
Hi Paul, I got out fishing with the ShoreThing on the afternoon of 5/2/13. The wind was a strong southwesterly so I ended up having a shot at Tokerau Beach as the West Coast would have been too rough.
It was an incoming tide. The fish were not that big but they were in good condition, I got seven snapper and a big stingray which we released.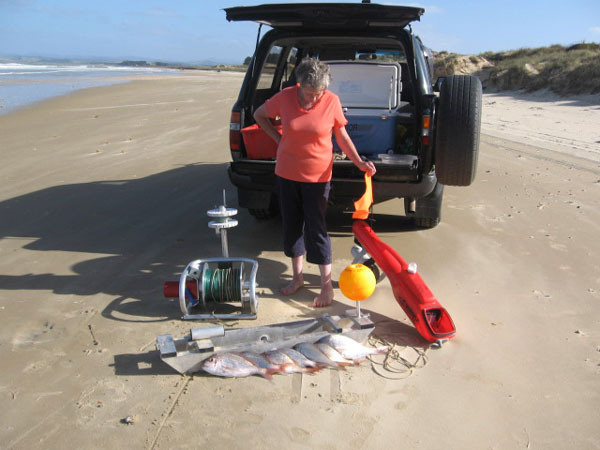 Again many thanks for the advice, it was as I thought the baiting and putting the hooks back too tight that was giving me problems. I didn't use the octopus bait you gave me as I am saving it for my next trip the West Coast
Cheers Scholly
Snapper Longline Video
Link to Video: Are Floating Bead Traces Better on Recreational Longlines?
We run two 25 hook snapper longlines with running traces to find out. All the traces have Target Snapper hooks snelled on. Half have the traces fitted with two floating beads on the traces. We catch a good haul of snapper to 6kg longlining off the Whangarei Harbour.
Click the link to view the Longline Video http://www.youtube.com/watch?v=a8HkCxNfRGQ
Online Purchasing Here: Buy Boat and Kayak Longlines and Accessories Here
Flounder Spearing With Led Underwater Lights
View Video Here: Flounder Spearing With Led Underwater Lights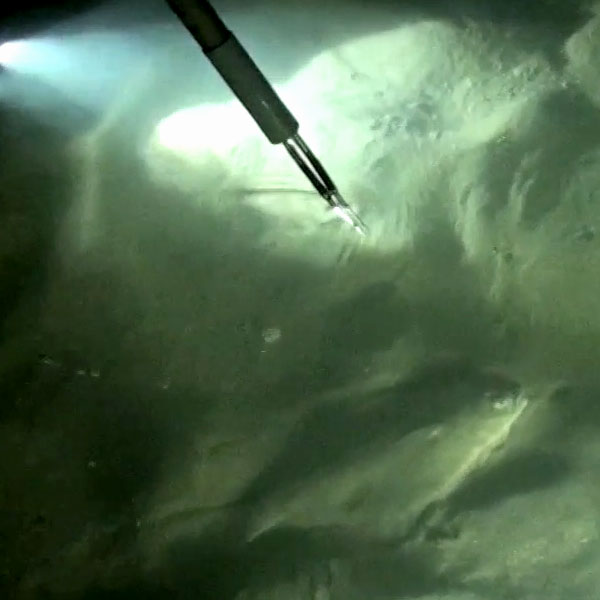 Compares underwater flounder gig lights with flounder lights held out of the water. We have found the flounder are much more approachable if the light is held submerged. The beam lights up the area and gives better viewing range as the light reflects back down into the water after hitting the surface. A light shone from above the water loses a lot of intensity through reflection off the surface and back into the air, it also can spook the fish.
Click the link to view the Video: http://www.youtube.com/watch?v=ufdU74NQPmg
Online Purchasing Here: Buy Flounder Lights and Accessories Here
ShoreThing Report from Bayly's Beach
Hi Paul
Had a great day at Bayly's Beach after we called in to see you the other day and used the octopus bait you gave me to try out.
It was a ight easterly wind with approx one to two meter southeast swell. There were big rips all along the beach and waves were breaking to about 400 meters offshore, the tide was about half way out.
Our friend Kev from Auckland, who has a holiday home there, suggested we head north up the beach, he stopped to put his Seahorse out (not a GPS one) and my Grandson and I went about another kilometer up.
Kev came to check on us and see the ShoreThing in action after having landed six pan sized snapper on his conventional kontiki rig.
He was pretty impressed when we hauled in 12 good sized snapper and a big kahawai on the first set, and even then I think another few got off in the surf. One of the snapper estimated at about 7kg was bitten in half by a shark in the waves.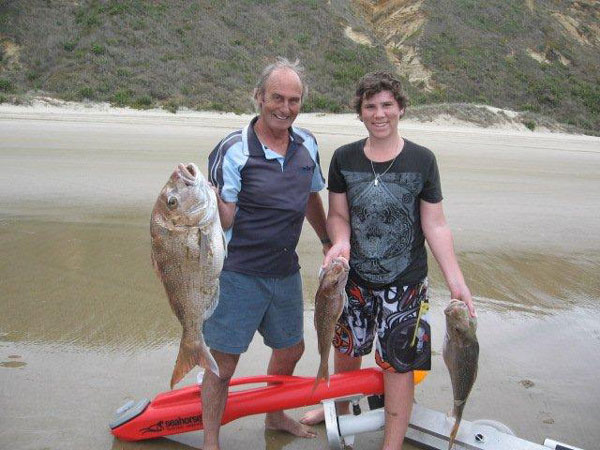 Our biggest snapper was 10Kg with another couple better than 6kg.
A few other locals arrived to checkout the Shorething and I gave them a rundown on what the ShoreThing is, and what it does, and had quite an audience for the second set.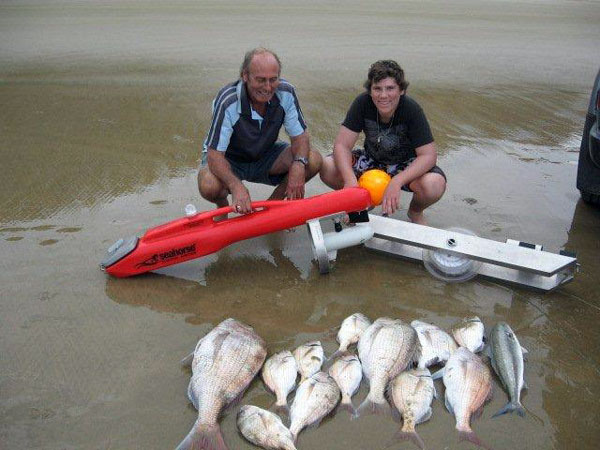 This produced a further good catch of big snapper with three better than 5kg and again several flapped their way off in the surf. We gave a few fish away and still came home with a full bin. It was another great day, that octopus bait you gave me really worked a treat!
Cheers, Scholly
for More Info on the ShoreThing Kontiki Dropper System
Drifting Weed No Problem To ShoreThing
Before the ShoreThing Kontiki Dropper Rig was available, fishing through drifting weed with any shore based Kite or Electric Kontiki longline used to be a recipe for disaster. The ShoreThing set below is in weedy conditions impossibe to productively fish with any other system.
On a conventional kite or kontiki longline, drifting weed will inevitably catch on every join, stopper, clip, weight and fish hook as soon as the gear heads out to sea. The combined weight of the drifting kelp, sackweed and sea lettuce will often stall the most powerful electric kontikis, setting distances can be reduced by 75% or more.
When the motor shuts off the fish cant get to the weed covered baits and it's unusual to catch anything worthwile. The worst part is hauling a weed loaded line back in, the masses of weed can put enough pressure on the gear to break a 100kg mainline if the process is rushed. We have heard of kite and kontiki fishers struggling a few meters at at time for two or more hours to haul in gear heavily laden with kelp and weed.
Shane Addenbrooke fished his ShoreThing Dropper Rig in the weed strewn conditions in the pics below, the darker areas in the water are the thickest areas of drifting weed.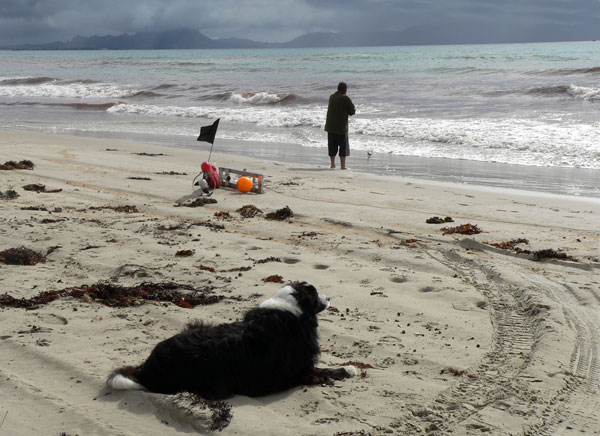 The zoom in below shows how thick the weed is, the breaking wave in the center is chock a block full of it, and bands of big drifting clumps of the reddish weed can be seen way offshore.
While these conditions are unfishable with conventional kite and kontiki rigs the ShoreThing Kontiki Dropper Rig is completely unaffected. All the bits that can catch up on weed are stored out of the water on the hook deployment reel and only release when the timer releases them well offshore.
Shane Writes: I tried out my new ShoreThing over Easter at Uretiti. Arriving at the beach there was a heavy build up of dead and drifting weed up to 200 meters offshore. If I had any conventional Kontiki I would have gone home, however I thought I would try the ShoreThing Kontiki Fishing System out.
It went straight out over the troublesome area and dropped the 25 baited hooks well offshore and past the weed in to clear water. I was rewarded for the decision to set with 10 nice sized snapper (pic below). What a great product!
Shane Addenbrooke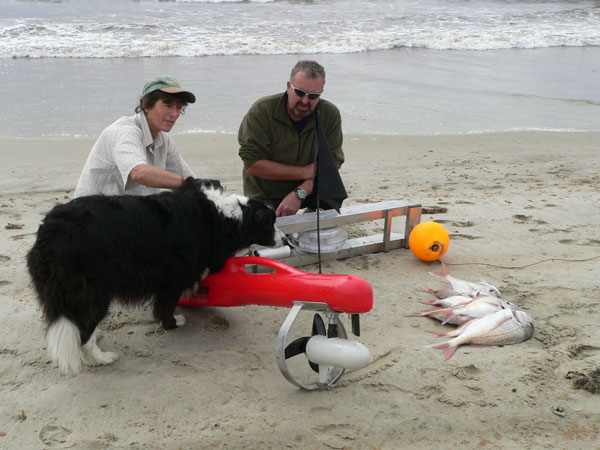 for More Info on the ShoreThing Kontiki Dropper System
ShoreThing Catch - 25 Fish on 25 Hook Set
The photo below is what is left of 25 fish on 25 hooks caught on a single set of the ShoreThing Kontiki Dropper System. The missing fish were given away by my companions before I got access to my camera.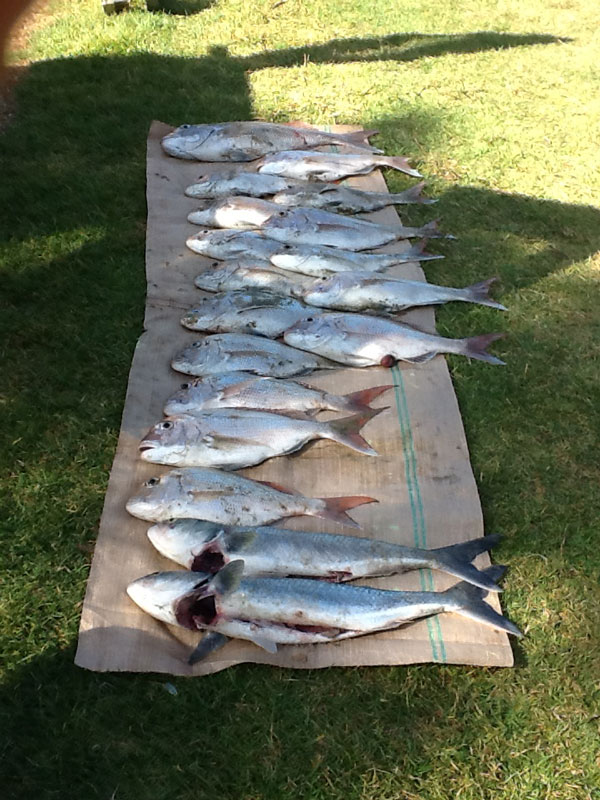 We all went out again the next day and shot the same area approx 500 meters North of the Bluff on 90 Mile Beach.
We got another 16 good snapper on one set, that lot have gone to be smoked and vacuum packed locally.
Both days we fished with octopus bait, the first day was just after half tide outgoing and the Torpedo ran pretty straight and did not drift far off position during 45 minutes of soaking.
The next day we sent it out approx 90 mins earlier as far as the state of the tide was concerned, the northerly current was considerably greater than the previous day and the whole rig ended up approx 200 meters North of where the Torpedo had stopped.
Brendon O'Sullivan
for More Info on the ShoreThing Kontiki Dropper System
Fishing Tackle and Bait
Paul's Fishing Kites also stock a comprehensive range of general surf and boat fishing tackle and accessories and have a well stocked bait freezer. Feel free to drop in or ring for any advice on any fishing tackle, flounder lights, premium kite and kontiki systems and boat longlines.
Paul's Fishing Kites
Shop Address: 39a Neilson St, Onehunga, Auckland.
Phone: (09) 634 5005 or visit our Shopping Website and shop 24/7 at your leisure.