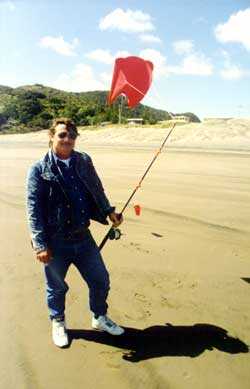 These kites are best flown downwind as they are difficult to tack more than 15 degrees while maintaining stability.

Productive fishing is possible with these kites if the wind is more than 45 degrees offshore.

If you need a fishing kite that will perform in a wider wind range and/or a much more tackable kite, check out the Flexiwing Delta Kite.

Use the Small Pocket Sled kite for casting fishing lines well out to sea in moderate to fresh offshore winds.

Small Pocket Sled Includes:
One Small Pocket Sled
One pre-tied dacron bridles
One drogue kite tail
Photo Right :
The pocket sled is easier to launch than parafoil kites or parachute kites and provides a fairly constant pull during flight.
The Drogue is fitted to a tail rope which has a swivel and snap clip at the other end. The clip is secured through an eyelet at the back of the kite.
The two string bridle has a loop in the center for attaching to the fishing line, the two clips are each attached to eyelets on the keels of the kite.